Ensure the long-term success of your wind energy project with our spare parts solutions!
With an extensive knowledge of the wind aftermarket supply chain combined with our independent and trustful network of partners, we can provide tailor-made spare part solutions to keep wind turbines running efficiently, sustainably, and economically. Our aim is to help our customers reduce downtime, improve the performance of their wind turbines, and promote a more sustainable wind energy operation.
You will find here the best sourcing options for New, Repaired, and Refurbished wind turbine parts and competitive prices and quick lead times. 
Take control of your wind turbine operations throughout and after their useful life and embrace the power of an independent and professional spare parts management for a future you we rely on! 
Marketplace (for sellers and buyers)
The largest global multi-brand wind turbine platform matches buyers and suppliers of spare part needs to offer a complete catalog of new, repaired, and refurbished parts and services. You can use the SparesInMotion.com platform to buy and sell main components, minor components, consumables, complete turbines, repair services, and other services.
Image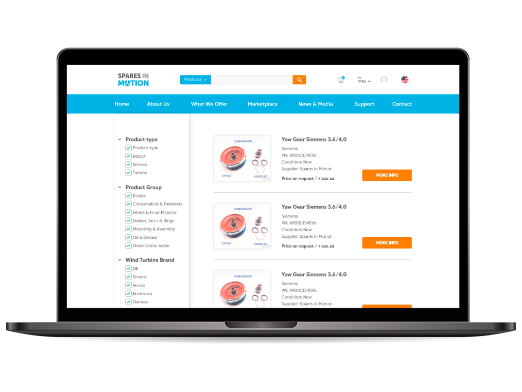 Increase your products and services visibility to the wind turbine market
Global and high exposure 24/7
List as many parts as you want
Reach worldwide buyers
Get inquiries and orders at any time
Negotiate with the buyer directly
Get access to relevant data (views, clicks, RFQs, etc)
Constant, professional, and responsive customer support
Buy from the best global suppliers in an easy and safe way
Wide range of products and services listed - suitable for wind turbines manufactured by Vestas, GE, Siemens-Gamesa, Ecotecnia, Nordex, Suzlon, and other brands
+ 40 trusted global suppliers (manufacturers, suppliers, inventory holding companies, and distributors)
Multiple source options
Receive online quotes at any time
Negotiate with the sellers directly
Constant, professional, and responsive customer support
Customized Procurement Services
Our team of Sales Managers is dedicated to finding competitive solutions to your most complex spare parts needs and handles QA/QC, Logistics, and Warranty.
Tell us what you need, and we will take care!
Image
Know the benefits!
Strong and global sellers and suppliers' network
Access to a robust and dependable supply chain of spare parts
Improved administration efficiency
The spare parts are supplied directly to your wind farm
Fast and efficient customer service
Highly experienced multi-language consulting professionals
Expertise in sourcing parts from a scattered market for mature wind turbines
Refurbishment Solutions
We thoroughly refurbish the component, bringing it to a like-new or even better condition. We expertly manage all aspects of the process from start to finish, delivering a fully functional and ready-to-use component.

Save costs, reduce CO2, and shorten your lead time!
Image
Know the benefits!
Reduced environmental impact: as compared to manufacturing a new component, refurbishing reduces CO2 emissions by 45%, on average, and reuses up to 70% of materials.

Cost savings: refurbishing components can be significantly cheaper (20% to 60%) than new ones.

Reduced lead times: 3-8 weeks depending on the component and scope while the lead time for new parts can be up to one year.

Improved performance: refurbishment can improve the performance of components, leading to increased power generation and overall efficiency of the wind turbine.